In the early church, when sisters and brothers met one another in the holy season of Easter, they would not just say "Hello."  Instead, they would greet one another with a hearty and enthusiastic Christe anesti–"Christ is risen!"–to which the only possible response is Allthos anesti–"He is risen indeed!"
We cannot meet face to face this Easter, in this season of pandemic.  To insist on that contact would be at best irresponsible, and at worst wicked: since we may not know whether or not we are carriers of the virus, we would be risking not only our own health, but the health of those with whom we came in contact.  But when we meet virtually, by phone or screen, we can still use that ancient greeting, and lift up as one, from our separate places, our Alleluias!
In celebration of this holiest of holy days, John of Damascus wrote this glorious hymn in the sixth century.  This hymn, in John Mason Neale's translation, is commonly sung today to a tune by Arthur S. Sullivan.  Have a joyous Easter, sisters and brothers: Christe anesti!
Come, you faithful, raise the strain
of triumphant gladness!
God has brought forth Israel
into joy from sadness,
loosed from Pharaoh's bitter yoke
Jacob's sons and daughters;
led them with unmoistened foot
through the Red Sea waters.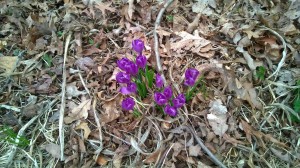 'Tis the spring of souls today:
Christ has burst his prison,
and from three days' sleep in death
as a sun has risen.
All the winter of our sins,
long and dark, is flying
from the Light to whom we give
laud and praise undying.
Neither could the gates of death,
nor the tomb's dark portal,
nor the watchers, nor the seal,
hold you as a mortal:
but today, among your own,
you appear, bestowing
your deep peace, which ever more
passes human knowing.
Alleluia! Now we cry
to our Lord immortal,
who, triumphant, burst the bars
of the tomb's dark portal;
Alleluia! With the Son,
God the Father praising;
Alleluia! Yet a gain
to the Spirit raising.