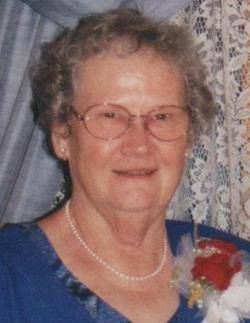 Let me tell you about my Mom, Mary Louise Tuell, who joined the church triumphant on March 16.  Mom was, quite simply, the best person I have known.  She was endlessly kind, loving, and affirming.  She was also very funny–sometimes unintentionally so, as she tended to scramble her sentences delightfully.  My sons still gleefully recall her mock-stern words when someone was besting her in a game: "Cheater, cheater, pants on fire!"  One of my own favorite Mom stories is as much about my Dad, and the marvelous rapport the two of them had (they were married for 61 years, and before that were high school sweethearts).  We were driving down our country road, and passed a huge "slip"–a place where a large chunk of the hillside had broken free and slid down, nearly covering the road.  Mom pointed at the slip and said,"Dig, dig, dig."  Dad, without skipping a beat, said, "Yes, Mary, that is a big hole."
Although my Mom was painfully shy, and afraid of many things–heights, water, tight places–she never let her fears control her.  One of her favorite passages of Scripture was 1 John 4:18:
There is no fear in love, but perfect love casts out fear; for fear has to do with punishment, and whoever fears has not reached perfection in love.
Trusting in Christ to overcome her fears, Mom travelled with us to the Blue Ridge, to Nags Head, even to Niagara Falls!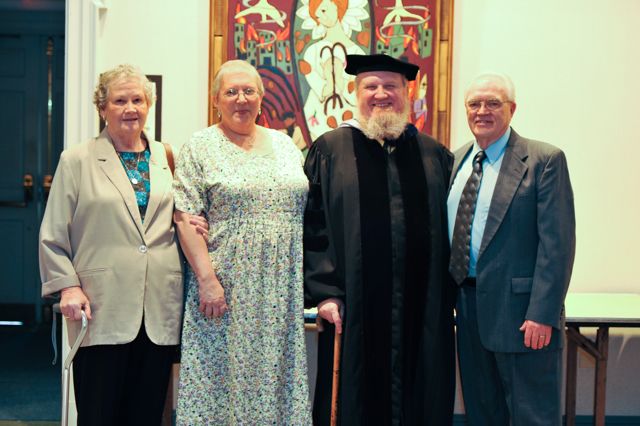 Despite her shyness, Mom came to concerts, performances, talent shows, and graduations: including my installation as James A. Kelso Professor of Hebrew and Old Testament here at PTS.
Another favorite Scripture of Mom's–and the passage read at her funeral–was John 14:1-14, the famous declaration by Jesus that he was going to "prepare a place" for us.  That passage, too, begins with a refutation of fear: "Do not let your hearts be troubled" (John 14:1).  But it goes on to affirm a confidence in the risen Christ to bring us through our own death into everlasting life.  The first line of Mom's obituary, written by my sister Tracey, embraces that promise:
Surrounded by her loving family, Mary Louise Holland Tuell, 80, of Mineral Wells, defeated Alzheimer's and Parkinson's as she went home to be with the Lord.
Mom did not succumb to her illnesses–she triumphed over them through the power of Christ's invincible life!
Mom and Dad were my first and best Bible teachers. But they did not so much teach us about Jesus, and faith, and loving kindness–rather, they showed us by example what a life of faith looks like.  They started every day with Scripture and prayer, took us to church, and modeled Christian love by their giving, and their support of others.  Daddy is teaching me still: showing me how a Christian grieves, modeling for me how to find a bedrock faith in the midst of sorrow and pain.  Pray for him, please, and for all of us–but also, celebrate with us Mom's life well lived.
Mom's funeral was on Palm Sunday.  Her and Dad's pastor, Rod Blanchard, observed, "Mary is having her own triumphal entry!"  And so she was–her own personal victory march into the New Jerusalem.  This past Sunday, back at our own church here in Pittsburgh, I sat in the choir with Wendy and Sean, and saw Anthony in the congregation.  As the music rolled over me, as the ancient words of Scripture were read and proclaimed, as the congregation together pronounced, "Christ is risen indeed!  Hallelujah!", I realized that this Easter too is personal, in a new way, for me.
In the Orthodox icons of the resurrection, Jesus does not rise alone–he lifts others into the light, sharing his new life.  In Scripture as well, Jesus' resurrection was never just about Jesus.  As John 14 reminds us, Jesus' resurrection becomes our resurrection, my resurrection–Mom's resurrection. I have always known this, of course.  But now, I KNOW it, at the center of my being.
May light perpetual shine on you, Mommy!  Thank you for all the love and kindness you lavished on us, showing us how to live together in God's world.  We will meet you in glory.
AFTERWORD:
To all who have offered words of comfort, prayers, cards, flowers, and other memorials–thank you so much.  May God richly bless you for being instruments to us of Christ's peace.