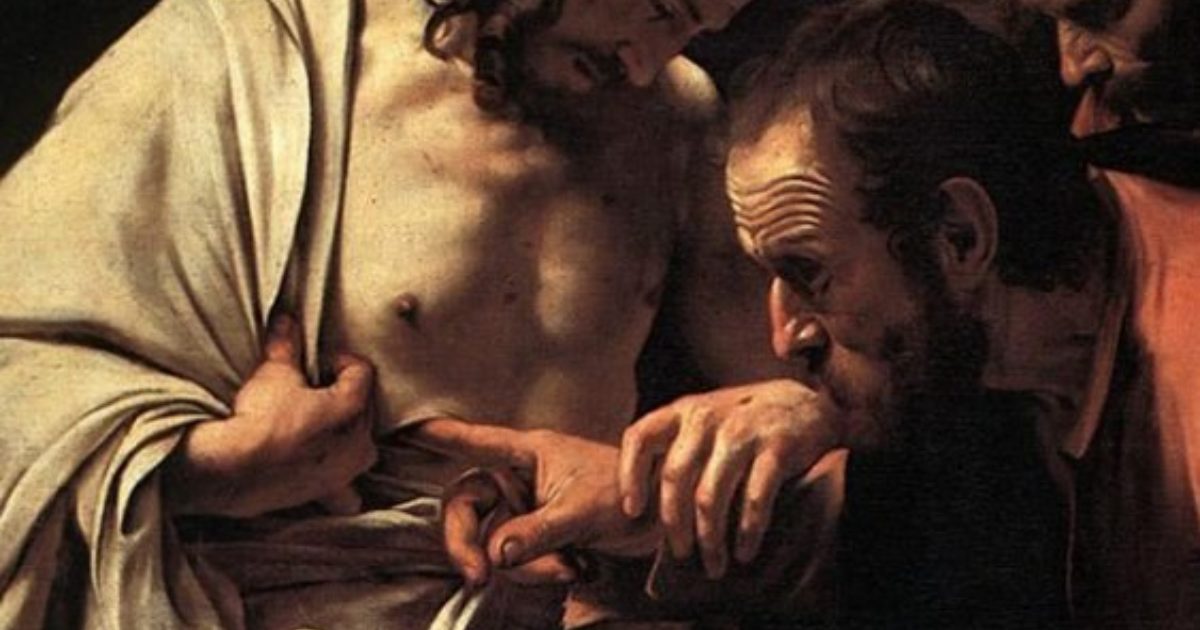 Thomas doesn't get a lot of respect.  If someone calls you a "doubting Thomas," you can bet that they aren't complimenting your critical acumen!  A "doubting Thomas" is foolishly skeptical, rejecting a truth that is apparent to everyone else–like Thomas, missing the resurrection.
No, Thomas doesn't get a lot of respect: except from Jesus!  Jesus never condemns Thomas.  Indeed, Jesus shows up, specifically, for Thomas.  Jesus invites Thomas to touch him, to put his finger into the wounds of crucifixion that his glorified body still bears–to experience directly the reality of Jesus' resurrection.  For Jesus, Thomas' doubts are not the problem they may be for us.
But why should doubt be a problem for us?  After all, people of God in all times and places have known that faith and doubt are not opposites: indeed, deep faith and profound doubt can occupy the same heart.
In just a few weeks, we Methodists will remember May 24, 1738, when John Wesley's heart was "strangely warmed" at Aldersgate, and he knew the assurance that Christ "had taken away my sins, even mine."  Yet in 1766, years after Aldersgate, Wesley wrote in a letter to his brother Charles,
"[I do not love God. I never did]. Therefore [I never] believed, in the Christian sense of the word. Therefore [I am only an] honest heathen, a proselyte of the Temple." 
The parts in brackets were written in the Wesleys' private shorthand–as though, even in a private letter to his brother, John was deeply ashamed of this confession!  John Wesley had doubts.
Saint Teresa of Calcutta was famed for her life of selfless service to the poorest of the poor in Calcutta's slums.  Yet, in letters she wrote to her confessors and superiors, published after her death,  she revealed the depth of her personal struggles with doubt, darkness and fear:
Please pray for me—the longing for God is terribly painful and yet the darkness is becoming greater. What contradiction there is in my soul.—The pain within is so great—that I really don't feel anything for all the publicity and the talk of the people. Please ask Our Lady to be my Mother in this darkness. 
Mother Teresa had doubts.
None of this should be any surprise to followers of the crucified Lord, who cried out from the cross,
My God, My God, why have you forsaken me? (Mark 15:34//Matt 27:45).
Even Jesus had doubts.
Our problem with doubt may actually be a problem with faith.  We are likely to confuse "belief," that is, intellectual assent to a concept, with "faith:" the commitment of one's life.  After all, "doubt" and "belief" are opposites.  If faith is belief, then, doubt is an obstacle to faith in God!  But what if faith is not belief?
Our Bible translators don't help us much!  Throughout this Sunday's Gospel reading (John 20:19-31), the Greek verb pisteuo is translated as "believe"—which can be the sense of this verb, but it would better be rendered, "have faith."  Nineteenth-century Bible scholar Joseph Henry Thayer wrote that pisteuo expresses "the conviction and trust to which a man is impelled by a certain inner and higher prerogative and law of his soul."
Deuteronomy 6:4 has for generations been a confession of faith for Judaism.  Traditionally, it has been rendered as "Hear, O Israel: The Lord our God is one Lord." But it is better translated, "Hear, O Israel: The Lord is our God, the Lord alone."  Similarly, the Latin verb credo, from which we get our word "creed," doesn't mean, as it is usually rendered, "I believe," but rather, "I set my heart upon." The difference, as church historian Diana Butler Bass observes, is "a shift from information about to experience of."  Indeed, in her revolutionary book Christianity After Religion,  she writes:
A great modern heresy of the Church is the heresy of believing. Christianity was never intended to be a system or structure of belief in the modern sense; it originated as a disposition of the heart.
The lectionary texts for this second Sunday of Easter drive this point home.  So, Psalm 16:4-5 is not about abstract theologizing, but about making a choice: committing to the LORD, rather than to "another god." The Psalmist writes, "The LORD is my chosen portion and my cup; you hold my lot."  That is, I have placed all my eggs in this basket!  I am all in on the LORD–and have experienced God's goodness myself.
In 1 Peter, the genuineness of our faith (1:7), tested and proven like gold in a smelter's furnace, is revealed not in our beliefs about Jesus, but our love for Jesus:
Although you've never seen him, you love him. Even though you don't see him now, you trust him and so rejoice with a glorious joy that is too much for words. You are receiving the goal of your faith: your salvation (1 Peter 1:8-9).
Can doubt and faith indeed live together, in the same heart?  In same letter where John Wesley says, "[I never] believed, in the Christian sense of the word," he also affirms, "I find rather an increase than a decrease of zeal for the whole work of God and every part of it," and urges his brother Charles, "O insist everywhere on full redemption, receivable by faith alone; consequently, to be looked for now."
So too, Mother Teresa could write,
I have come to love the darkness. – For I believe now that it is a part, a very, very small part of Jesus' darkness & pain on earth. 
We are, to say the least, uncomfortable with darkness, in our own lives, or in someone else's.  As Donald Gowan ruefully observes,
Christian worship tends to be all triumph, all good news (even the confession of sin is not a very awesome experience because we know the assurance of pardon is coming; it's printed in the bulletin). And what does that say to those who, at the moment, know nothing of triumph? 
But when tragedy strikes (as, inevitably, it will), we have no use for Pollyanna optimism, for shallow, saccharine assurances that all will be well.   In this Easter season, may we, like Thomas, discover that the glorified, risen Jesus still bears the wounds of the cross.  This triumphant Jesus is the same Jesus who on the cross cried out in his despair.  The Easter Jesus of light and glory is the same Jesus who descended into the darkness of death–both his, and ours.  Jesus enters into the midst of our struggle, loss, pain—and yes, even our doubt!—to show us that God is with us even there – perhaps, especially there.  In our own times of doubt and struggle, may God's Spirit reveal Christ right alongside us, and enable us to say, with St. Teresa, "I have come to love the darkness."
AFTERWORD:
Thanks to pastors Scott Shaffer and Ben Phipps, and to the people of Faith UMC, for inviting me to preach and worship with them this week!