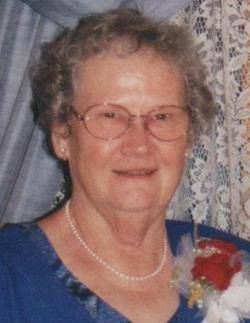 This Sunday is Mother's Day–the second Mother's Day since my Mom, Mary Louise Tuell, joined the Church Triumphant.  My mother was a deeply loving, very shy woman.  Yet her love for people, and her love for the Lord, overcame her shyness.  I never think of my Mom without remembering her favorite passage of Scripture, 1 John 4:18:
There is no fear in love, but perfect love casts out fear; for fear has to do with punishment, and whoever fears has not reached perfection in love.
Because of God's perfect love burning in her heart, Mom overcame her fears, and went back to school to become a Registered Nurse.  She was a leader in our local church, responsible for starting our prayer chain (a ministry that is still going strong), and a persistent voice for outreach ministry.  Because of her example, Mother's Day has become, for me, a reminder of God's call to and through faithful women.
We at Pittsburgh Theological Seminary were honored this week to have the new Bishop of the Western PA Conference, Rev. Cynthia Moore-Koikoi,  on our campus.  Bishop Moore-Koikoi preached, taught, prayed over our graduating seniors, and shared insights with our community.
In a question and answer session over lunch, she reflected sadly that there were pastors in our conference preaching and teaching that women ought not be in our pulpits, or in positions of leadership.  This despite the fact that since 1956 (the year that I was born), the (then) Methodist Church has been ordaining women, a practice expressly continued in 1968 when the Methodist and Evangelical United Brethren churches joined to form the United Methodist Church.
Indeed, Methodist women have been in ministry since the birth of our movement.  Although he faced severe criticism for doing so, John Wesley himself gave permission for Sarah Mallet to preach in 1787, holding her to standards no different than those expected of all Methodist lay preachers.
Pioneering, dynamic Methodist preachers such as Jarena Lee were recognized as evangelists or local pastors, even though they were mostly barred from ordination in the various denominations that would form the United Methodist Church (the former United Brethren being an occasional exception).
Jarena Lee has been particularly on my mind in recent days.  A letter supporting Bishop Karen Olivetto from her alma mater, Drew Theological Seminary, contained these stirring words:
We are reminded of that powerful moment in the early 19th century when Jarena Lee went to Bishop Richard Allen of the AME Church to ask him to license her to preach. Bishop Allen told Lee no, that the Book of Discipline 'did not call for women preachers.' In response, Lee prophesied, 'O how careful ought we to be, lest through our by-laws of church government and discipline, we bring into disrepute even the word of life.'
That, of course, is the rub.  I suspect that those preachers to whom Bishop Moore-Koikoi referred in her remarks would object rather stringently that they are following (as they would put it), "not the traditions of man, but the Word of God."  They have a point, of course:  1 Timothy 2:8-15 denies women the right to preach or lead, because "Adam wasn't deceived, but rather his wife became the one who stepped over the line because she was completely deceived" (1 Tim 2:14).
The problem is, that is actually not what Genesis 3 says at all.  There, the man and the woman alike (as well as the snake!) are held accountable for their actions.
Indeed, from the very beginning of the Bible, women and men are alike affirmed.  Where the King James Version of Genesis 1:26 has God say, "Let us make man," the Common English Bible has "Let us make humanity" (Gen 1:26).   This is not, as some might claim, political correctness, but accurate translation. In Hebrew, if I want to say "man," I can say it: the word for "man" is 'ish. But the word used here is not 'ish but 'adam, which means not "man" but "humanity."  It is particularly important that we translate 'adam correctly, because Genesis 1:27 goes on very plainly to state:
God created humanity ['adam] in God's own image,
in the divine image God created them,
male and female God created them.
Both masculinity and femininity, both maleness and femaleness, are reflections of God in this text. There is no basis here for placing women under men. To be sure, Israel's traditions were not always equal to this insight!  Yet here it is, at the very beginning of the Bible.  Sexism has no place in God's rightly ordered world.
The Old Testament is filled with surprising stories about strong women taking the lead.  Miriam, Moses' sister, was a prophet (see Micah 6:4, which describes Miriam alongside Moses and Aaron as leading the Israelites to freedom). The prophet Deborah (Judges 4-5) unites the tribes of Israel against their enemies. Ruth, a poor Moabite widow, takes the first step in proclaiming her love to Boaz, and becomes the ancestress of King David.  Esther risks her position and her life to stand up for her persecuted people.
In the Gospels, Jesus continually demonstrates concern for women.  John's gospel describes the remarkable story of the Samaritan woman who meets Jesus at the well, talks with him, and becomes the first missionary! Jesus' movement was supported by women (Luke 8:2-3).  At the end, even when his disciples had forsaken him, the women remained, at the cross and at the tomb, so that it was women who were the first eyewitnesses to the resurrection.
In the letters of Paul, everywhere that the apostle offers personal greetings, he mentions women, by name.  Romans 16 provides several fascinating examples: Paul greets Phoebe, who he calls a deacon (the CEB reads "servant," but notice that this is the same Greek title given in Acts to male leaders like Philip and Stephen), Prisca and Aquila (a husband and wife ministry team; here as elsewhere, Paul breaks convention by mentioning the wife, Prisca, first), Mary, and most remarkably, Andronicus and Junia, another husband and wife team who are "prominent among the apostles"–Paul refers to Junia here as an apostle!
In 1 Corinthians 11:2-16, Paul insists that Corinthian women follow custom by wearing a head covering while prophesying: emphasizing a distinction between women and men.  Still, this passage presupposes that women were speaking in the churches–Paul just wants them to do so respectfully!
Most remarkable of all is Paul's bold proclamation in Galatians 3:28: "There is neither Jew nor Greek; there is neither slave nor free; nor is there male and female, for you are all one in Christ Jesus."  Since, for Paul, all of us have access to God through Jesus and Jesus alone, every earthly hierarchy has been overthrown.  All of us approach God on an equal footing, women and men alike.
Viewed in the context of the whole of Scripture, then, we can understand the attitudes expressed in 1 Timothy 2:8-15 without feeling bound by them.  Jarena Lee's prophetic words refute biblical as well as Disciplinary legalism.  I know that a woman's place is in the pulpit because I have known and heard women preachers, and found them to be inspired by the Holy Spirit.
AFTERWORD:
It is a point of pride for me as a West Virginia United Methodist to celebrate, and share with you, the origins of Mother's Day: